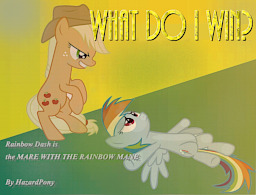 As Applejack manipulates Rainbow Dash into participating in four challenges devised by their friends to test them in new and unusual ways, Rainbow finds the path to winning is tougher than she expected.
The stakes only get higher as Applejack reveals her hidden attraction to Rainbow Dash.
Contains Appledash, for the third AppleDash competition. Again.
Chapters (10)