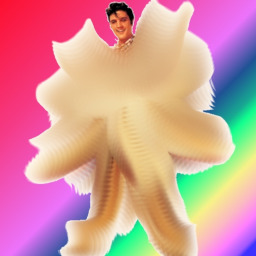 Octopus Elvis tries to take over the world with his cephalopod superiority.
---
Please do not take this seriously. Anyone who does will be taken to court with Discord as judge, jury, and the lawyers on both sides.
Obviously, there's not much actually about Elvis Presley, so if you came here for that, sorry. Please make sure you have all belongings and exit through the door on the right.
"There had better be ponies in this story because they're Always on my mind (of course, I have a Suspicious mind) and I'm used to having My way. Don't be cruel, tell me where it's set: is it in Equestria, or In the ghetto, or even in Viva las Vegas, America? I guess Anyplace is paradise, or rather, I Can dream. That's all right, don't answer, you Devil in Disguise. I'm Counting on you to tie this into the MLP universe, so how about A little less conversation or I'll put on my Blue Suede Shoes and bust a nut in your Jailhouse rock. It's Now or never mate, and I hope you make the right decision." ~ThatWeatherstormChap
Written mostly by mah bro, with me adding some things, and edited by me, wdeleon, fluttershysone and EpicNinjaGamer.
Cover art by me.
Also, twentieth story! Yay!
(And yes, this part is longer than the whole description. Whatever.)
Chapters (2)