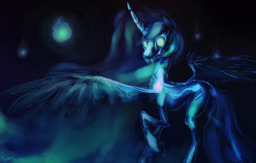 Lunar Limbo is a cold place, made even colder with a being whose only purpose is to augment one's negative emotions and one's desires, who insists that Luna was right to try to take over.
---
Written for Nightmare Moon is best pony's contest and also entered into Luna is The Best Pony's contest.
EDIT: If I've mistagged this by adding "Drama," let me know.
Chapters (1)