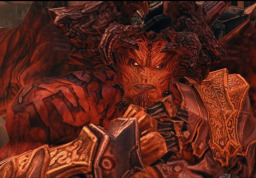 Really, all Princess Celestia wanted was Harmony. It was her nature, her purpose. Those who threatened it tasted to brunt of her wrath, and many have tried. But when he came, Celestia's perception was flipped on its head. After a fierce battle, she lay broken and defeated before him, but was spared, left to lick her wounds, and mull over the choices given to her.
Five centuries later, Celestia uses her second chance to, once again, fortify her kingdom in Harmony alongside her fellow princesses. And as her mind drifts back to darker times—as she remembers a demon's cold words and thrashing hostility laced with compassion and wisdom—Celestia prepares for the most fool-headed thing she could ever do... Bring him back.
Now the alicorns of Equestria suffer the backlash of Celestia's choice. Join them as they hold fast to their ideals, keep secrets hidden, sins buried, and deny the primordial fiend that'll stop at nothing to test them.
Darksiders Crossover
---
Proofread by the ever-wonderful, ever fantastic Pearple Prose and Idsterian who just so happen to be the beez-neez.
Rated "Teen" for violence, mild imagery, mild language, and suggestive themes.
Enjoy!
Chapters (4)