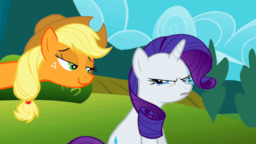 Featured on Equestria Daily, December 28, 2013!
What could a smug, arrogant, disrespectful, inconsiderate, country-town farmpony possibly have to offer a seamstress down on her luck? Migraines, premature wrinkles, a revolutionary new fashion line, and a burning attraction that they'd both deny until the moon crashed into Equestria. That's what.
Rated "Teen" for suggestive themes, crude humor, innuendo, and shameless drama written by yours truly.
(Many thanks to the ever-helpful Pearple Prose for his generous proofreading and suggestions. And an extra-special thanks to the fiction and fanfiction authors that have helped push my writing skills to new heights.)
Enjoy!
Chapters (3)