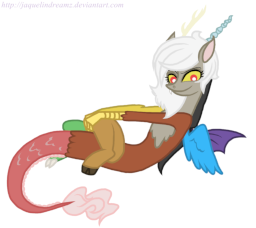 Scarlet Eris. Female Draconequus, chaotic in nature and an over prankster and pain the flank.
"Hey! I am not a pain in the flank!"
However, her pranking days would soon be over as she might have done something that caused her father, Discord, to send her to another dimension and since her powers over chaos is still developing, she has no real way of going back home.
To top it all of, Discord picked a particular creature to balance her rather chaotic nature AND babysit her.
And no one babysits a spirit of chaos.
There will be comedy, shenanigans, hints of romance and not to mention, tons of chaos!
He is in for a wild ride.
"Chaos? Did someone say....CHAOS?!"
-Eris
---
Update: Holy sh*t guys! This story got featured! Thanks to all for making it happen!
Update 2: (Estimated time of feature removal: 3rd of May, around 6:30 pm Local Time: Singapore) This story's feature was good enough for me, even for a slight duration. Thanks everypony!
Update 3: (Estimated time of feature and removal: 25th of June, 11:45 pm to 26th of June) Wow! Really? Featured again? U for real guys?
Update 3: (You know the drill) Goddammit guys! Stop giving me these features! (But in all seriousness, really guys?)
---
Hi guys, it's Kro here for another story, this time round, it's about Eris!. I hope you guys like this story. If you don't, then I'm sorry if this seems like a waste of your time.
The picture is by the lovely JaquelinDreamz of deviant art.
P.S This story was inspired by a story that I read but can't remember the name
Chapters (10)