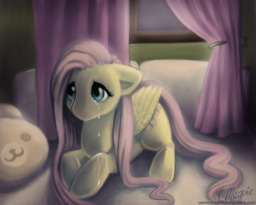 What happens when all the colors fade? When Rainbows turn grey? What happens when the Rainbow you gave your whole life to disappears? Sometimes, even though it seems that the colors in your world may have vanished, all you need is a friend to bring them back.
Twilight Sparkle finds the answers to these questions when one of her closest friends passes on, even though it seemed like a living nightmare, she finds that it has opened her friends and her very own eyes that true friends transcend even death itself.
----------
TheSlashawar did a reading of this story! Check it out if you want to :) http://www.youtube.com/watch?v=v7n_XfFbTko&feature=g-u-u
----------
I am not doing anymore changes to this story (except for grammer and spelling). I feel that this story was written with most of my sorrow thrown into it so I don't want to spoil that.
Cover Image by LaurenMagpie: http://laurenmagpie.deviantart.com/
Chapters (2)