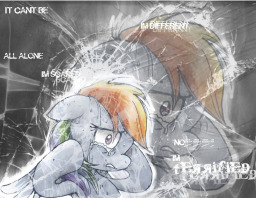 "Hello, this is 911. What's your emergency?"

"My best friend's trying to kill me! Please, help me!"

"What's your address?"

"1124 Southeast Featherfree avenue, Ponyville! Please, come as fast as you ca- Rainbow, please! Just put the knife dow- AAAAAAHHHHHHHHHHH!!"
Rainbow "Danger-Pofessionalism" Dash, to say the least, is insane. Rainbow was administered as a patient at the Canterlot Asy- Psychiatric Hospital after trying to murder Fluttershy. Now, the friendships of the Mane 6 are put on thin ice, and more lives may be on the line if this doesn't come to an end. Will the Mane 6 live to love another day, or will the colors of insanity blot out the grey? Only time will tell.
*hit the top charts on the 17th of February, 2014
Chapters (2)