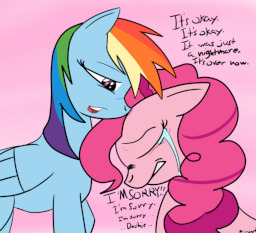 Rainbow Dash returns from an evening in Cloudsdale to find Pinkie Pie in a dreadful state after a terrible nightmare. The pegasus tries her best to comfort her friend, but will it be enough?
Image by microgrid (http://microgrid.deviantart.com/).
My Little Pony: Friendship is Magic and its characters are owned by Lauren Faust and Hasbro. Characters are used without permission but with the greatest respect.
Chapters (1)