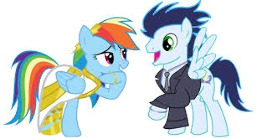 Source
Pinkie Pie invites everypony in Ponyville to her wedding, and with Princess Celestia as the SDIG (Super Duper Important Guest). Including Rainbow Dash, of course. She doesn't mind to go until she hears Pinkie Pie set up the rules.
One, any pony who attends Pinkie's wedding would have to bring a partner of the opposite gender with them. Two, the lucky mare who gets the bunch of flowers at the end of the wedding must come up on stage to kiss their partner.
Rainbow Dash isn't really comfortable with both rules. First, she doesn't have a partner. Second, she doesn't want to catch the flowers.
Given that Pinkie's wedding is in one month, Rainbow only has one month's time to find a partner...and a dress for the wedding.
Chapters (2)