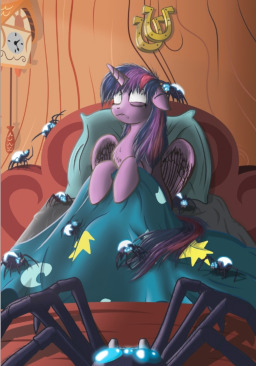 Source
Remember the time Ponyville was invaded by Parasprites? Or the time Cerberus, the demonic three-headed dog guardian of Tartarus, Equestria's underworld, wandered away and ended up in Ponyville?
What I'm trying to say is, it's an odd sort of town. Anything can happen.
This is the story of how a million star spiders came to live with Twilight Sparkle. It wasn't even the weirdest thing to happen to her that month.
Ponyville, man. Crazy place.
Edit: Now a reading, apparently!
Chapters (1)