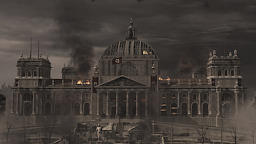 It is 1945, nearing the end of World War 2. An army has made it's way to Berlin, and the city has fallen. But this is not the army of the Soviets. This is an army of Equestria, seeking to end the war of attrition by stamping out the human pestilence. Wehrmacht Hauptmann Herman Schott stands atop the Reichstag as the last human in Europe, waiting for the Equestrian to claim him as well. With nothing but the captured flags of conquered nations, a Luger, and some stick grenades, can he make a final tribute to humanity that will not be forgotten?
A simple one shot of a conversion bureau story.
My Little Pony belongs to Hasbro.
UPDATE: Added Der Koniggratzer Marsch acompaniment video as an afterthought.
Chapters (1)