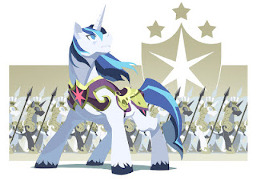 Shining Armor is one of the most respected Royal Guards out there. He is on his way to retirement and working up the courage to propose to his mare friend Princess Cadence. But when she disappears, and nopony is available to help him, he is forced to take desperate measures. The only one who can help him is his "dead" cousin, a former Mob boss who was supposedly killed by his underlings. Now being hunted by the forces of Prince Blueblood, Shining Armor (with Flash Sentry at his side) must forsake his upbringing to save the one he loves. Join him and and Flash as they take a turn on the other side of the law.
Rated Teen for violence and minor language.
Disclaimer: My Little Pony: Friendship is Magic is owned by Hasbro and Lauren Faust.
Chapters (7)