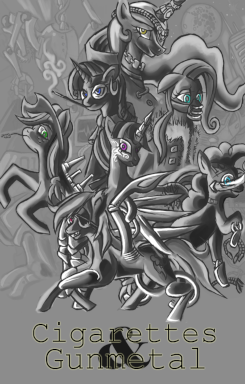 Source
Equestria, but not as you know it.
Welcome to the radiant capital of the Solar Kingdom. Gargantuan skyscrapers line the streets and mechanical transports dot the skies. AI constructs reign over most electronics built within the last decade.
The streets of Canterlot and New Ponyville are embroiled in a corporate cold war while more obvious international conflict threatens to engulf the borders. A young, sheltered Twilight Sparkle embarks on a perilous tour of this brave new world with the aid of a select few others: less-than-fortunate outcasts and calculating socialites among them.
An amalgamation of classic and modern cyberpunk in controlled doses. Inject directly into bloodstream.
For the more genteel among you: story contains measured amounts of violence and profanity.
Chapters (18)