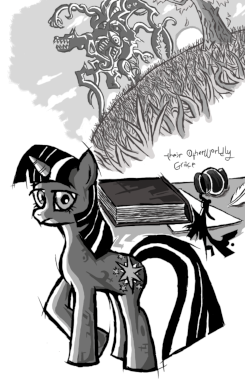 So begins yet another chilly autumn in Equestria. While making her annual preparations for the winter, Twilight Sparkle comes across four jet black volumes in a dilapidated section of the Canterlot Archives. With Princess Luna's blessing, Twilight begins the long, arduous process of translating the ancient tomes. Before long, she begins experiencing horrifying dreams and visions of distant dimensions and indescribable monstrosities.
This is an attempt at blending the My Little Pony universe with Lovecraft's iconic cosmic horror.
Rated T for potential violence and nihilistic themes.
Chapters (19)