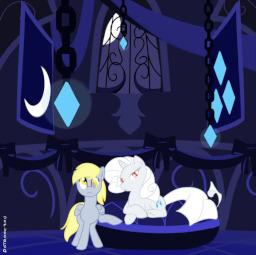 In the magical land of Equestria, the night has lasted for a thousand years. But now, with the anniversary of Queen Luna's victory over her rebellious sister approaching, the Queen's most faithful student learns about a disturbing old prophecy. Can she, along with a hastily gathered group of allies, save the Land of Eternal Night from the dawn that Hellion Queen is trying to bring?
----
This is an alternate-universe - or, to be absolutely precise, a reverse-universe fan-fic for MLP:FiM.
The cover image is a bit of fan art from DotRook over on dA: Dark Equestria: Rarity
Second (and final) chapter will be coming soon, once I polish it a bit.
Chapters (2)