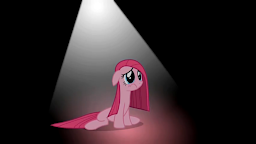 Pinkie Pie's mind is out where the buses don't park any more. When her wacky-factor gets her in hot water with Applejack, someone close to Pinkie decides for an intervention. Pinkamena, Pinkie's evil side, wants a word.
Thanks to Rethkir for his proofreading. Go read his pony-words.
This story was deemed a Ruby By The Gem Hunters!
Approved by Twiight's Library!
Chapters (1)