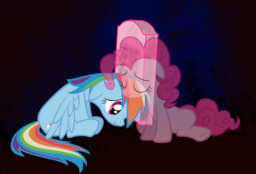 Source
Pinkie Pie has been depressed for a long time. Her business has failed, she is out of pocket, about to lose her house and feels abandoned by her friends. In a moment of desperation, she tries to take her own life, only to be saved at the last minute by Rainbow Dash.
As Pinkie continues to battle with her depression and suicidal feelings, Twilight, Applejack and especially Rainbow Dash, must deal with the fallout of her suicide attempt.
This is a tale of sadness, pain and hope, one that focuses on the impact of our actions on others.
Chapters (14)