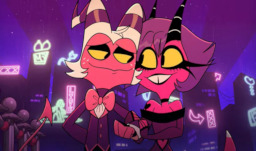 Millie and Moxxie are top-rated killers in their world. They don't know much about what it takes to be parents, though. Since Applejack's family has seen plenty of rough patches, maybe they can give the Imps the advice they need.
But first they have to defeat the Timber Wolf that wants them dead.
This is the third Helluva Boss/MLP story I have done that's ended up in the featured box 3/9-3/10!
Thanks for all the support, folks!
Chapters (1)