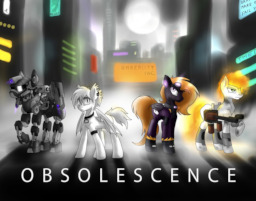 Source
The rewrite of this story can be found here.
---
Under the bleak sky of a post-industrial Canterlot, a young mare named Neverwas ekes out a living through her knack for hacking computers. Her day-to-day existence is turned on its head, however, when she becomes entangled in a hidden war between the government and the megacorporations vying for control of the city.
In a world where cybernetics and genetic engineering, computerized dark magic and reality-altering conspiracies have long since displaced sunshine and rainbows, can one little pony hold onto her own life—and her own existence?
Now featured on Equestria Daily!
Thanks to TheOmegaRidley and Piecee01 for their amazing artwork!
Chapters (3)