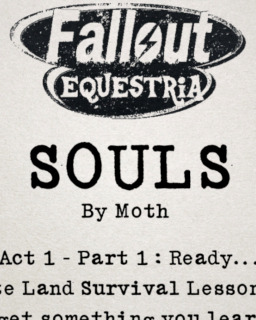 Set 100 years after the war with the zebras violently ended, this is the story of an unlucky trader who suddenly finds himself dead and his afterlife somehow tied to two strange ponies. He now has to try and figure out daunting questions such as:
Who are these ponies?
Why is he stuck following them?
How did this happened?
Where are his hooves!?
This fan-fic is just a third of a much larger story...
-Hear another side of the larger narrative with Fallout Equestria: Sounds.
-See the bigger picture, take a look at Fallout Equestria: Sights.
-Follow the progress of all three tales at the Sights Sounds Souls Tumblr(and ask Colt questions).
-See all the parts in one place at the Project Hub.
Chapters (11)