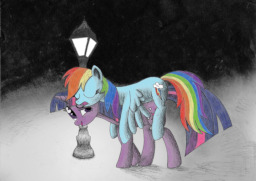 Source
After Rainbow Dash loses a wing in an accident Twilight finds herself to be the only pony capable of restoring it. But can she reconcile the month long treatment with her suppressed feelings for the pegasus?
I wanted to change a lot in this story before submitting it here, but then it took longer than expected and I had other things to take care of. So, after only the most basic revisions, here it is in all its imperfect glory. And in chapter form, too.
Cover image by me.
Skipsy also made a comic for it.
Chapters (6)