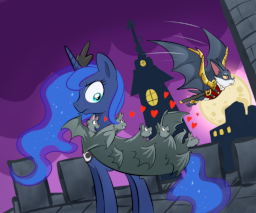 Source
This story is a sequel to Equestrylvania
---
Dracula.
The name alone can curdle blood and hush a crying infant. When his castle takes the place of Canterlot's royal palace, a shroud of despair falls across all Equestria. Ponies are fearful. The land is rotting. Once-peaceful animals have gone rabid.
These are the tales of those ponies brave enough to withstand Dracula's darkness.
---
The companion piece to Equestrylvania. All side-stories that aren't relevant to the main plot can be found here, a compendium of short tales regarding things like other places and characters in Equestria, character history bits, and even Bestiary entries for Castlevania's many monsters.
Chapters (3)