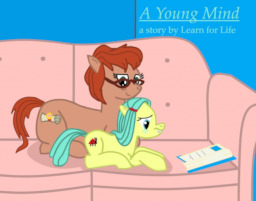 Ocellus was a bookworm. Everycreature at the School of Friendship knows about Ocellus's constant reading habits. It could sometimes be a hassle to get her away from the latest tome she was digesting! But no one would have her any other way.
But when her friends ask her where she became such a bookworm, she's hesitant to say anything about it. Why would she have something to hide about her love of reading? Little by little, her friends uncover what sparked her love of books... and Ocellus may face a long-standing problem of her own.
Takes place some time before the Young 6 grew up. Whether this story takes place before or after Twilight's final coronation would not change how the story unfolds, methinks.
Crude coverart done by myself.
Chapters (3)