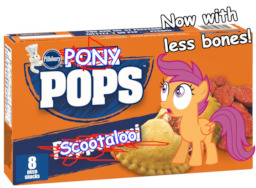 Scootapops!: The elite brony gamers' first food choice!
Scootapops!: Try our skinless flavor!
Scootapops!: When your body needs an excuse to have another energy drink, you can microwave one of these and call it a meal!
Scootapops!: There's a party in your mouth and this time you're still not invited!
Scootapops!: I can't believe it's not humane!
Scootapops!: Who knew the inside of a pony looked so much like pizza sauce?
Scootapops!: Where were you when they started making tiny ponies into microwaveable snacks, and how long did you weep when you first heard?
Scootapops!: Perfect instead of trying to kill yourself directly!
Scootapops!: No refunds.
---
A tribute to Fiddlebottoms, God rest his soul.
Co-written with darf. If you like my work, consider donating to my Ko-Fi!
Chapters (1)