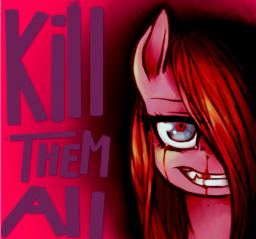 This story is a sequel to Borderline
---
Reading the first one is not absolutely necessary, but strongly recommended.
I don't know how, but Pinkie managed to escape from the Canterlot Prison for the Mentally Unbalanced, adding insult to injury to a nation which has already been shaken by her murders. Sugarcube Corner has been abandoned ever since her spree, but now something is stirring in there again.
I can't help but shudder as Mully tells me to check on the disturbance. A part of me hopes that this will be just another case of a desperate teenager first dealing with misconduct. The other part dreads what I might find amidst the decrepit walls of what Pinkie once turned into a slaughterhouse.
A collaboration between Owlor, Lucefudu and jmj.
Edited by MikhailWilson.
[Cover art by Darkenshore and xArakayx; edited by MuzzledElk and MikhailWilson.]
Chapters (19)