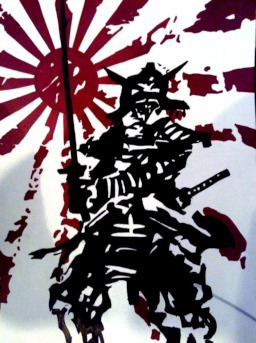 Source
The Empire of the Rising Sun. The world's most terrifying and technologically advanced enemy, now reduced to a shadow of its once great self.
Nothing more than just an freak accident, a result of the elimination of Einstein by the hands of the then-Premier Anatoly Cherdenko, who now resides in cryo prison for his crimes against humanity with his accomplice.
But what if the Imperial's foretold divine destiny is somewhere else, and their accursed upbringing a blessing, that even the late Emperor Yoshiro himself couldn't imagine?
What if another Empire of the Rising Sun needed their help in another world different from their own and technology so much more inferior to theirs, and their legends taking ahold of six different and current warriors and ages before, a great leader who's successors unified the whole of feudal Japan?
It is time for the Imperial army to restore its former glory and to redeem itself from their justifiable atrocities, and with it comes a new age for them and the inhabitants of the other world, the age of the rising suns.
Crossover with; Command and Conquer - Red Alert series/MLP.
Teen for foreign cursing and extreme gore.
Chapters (1)