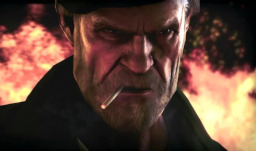 Bill Overbeck. Soldier, veteran, old man, wise head, zombie apocalypse survivor and a dead man. Did I say a dead man?
Indeed, he's dead saving his beloved and the others in order to let them escape to an isolated island with no Infected. Finding himself after death in a world in conflict just like his from beings odder than the zombies and somehow, he's died again.
Well, it's going downhill from there, just like the outbreak once more.
Inspired by Eakin's Hard Reset fiction (And it takes place in that same universe too!) Read the comic first, it'll help you understand the situation. To make a note, I might not update this as often as I do with Command and Blunder because well, I was so bored with this one.
Chapters (1)