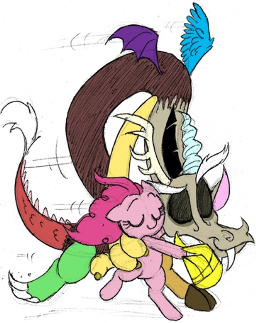 Source
Don't get Pinkie Pie wrong; she hates Discord, and didn't mean to set him free...
...Well, it's not that she hates Discord.
She likes him.
...I mean, she likes the chocolate rain he made, but she hates the chaos.
...Um...actually, she doesn't hate the chaos; it's kinda fun really...
...Technically speaking though, she dislikes the chaos, but it's cool to-
...
...
Oh geez, what has she gotten herself into...
A DiscordXPinkie Pie ( DisPie / Pinkord ) fanfiction.
{This story voids the episode of 'Keep Calm and Flutter On'}
Chapters (6)