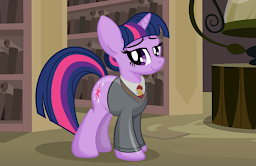 Source
After discovering that Cadence is not who she appears to be, Twilight is sent to another world entirely by the disguised Changeling Queen to avoid her plan being disrupted.
When Twilight lands, she discovers that not only have Spike, Owlowiscious and Peewee followed her, but that they've arrived in a world where the main sentient species is human.
There's still a place where they teach magic, though.
Crossover with Harry Potter. Twilight will be effectively taking the role of Hermione.
I've marked this story as cancelled to reflect the unlikelihood of it continuing. If I do come back to it I'll revert that.
Chapters (9)