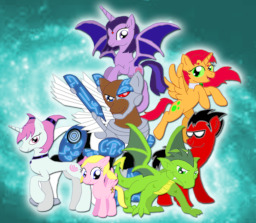 Source
Raven of the Teen Titans has long been a closet pegasister. She was introduced to Friendship is Magic by Beast Boy and Starfire and - although she is loathe to admit it - she enjoyed it. She especially identified with the character of Twilight Sparkle. What with Twilight's enjoyment of reading, talent in magic, and unexpected but life changing friendships, it felt like Raven's own life mirrored and sugarcoated onto a world of pastel colored ponies. Even Twilight's friends reminded Raven of her own to a certain extent.
When she wakes up one morning in Twilight Sparkle's body with no idea how this happened or how to fix it, she begins to think she identified with her a little too well.
Now trapped in the plot of the series from the beginning, she has to find away to fix this, find out what happened to the real Twilight, and at the same time save all of Equestria. At least she has some friends to help, right?
-------------
Crossover idea inspired by the fact that these two characters share the same voice actor, Tara Strong. Originally, it was just an idea I played with for fun, but I have a serious - and frightening - plot for it. Dark for later chapters.
Chapters (26)