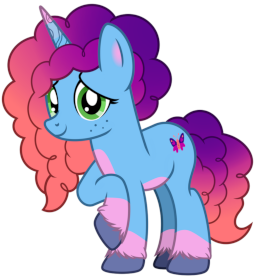 Source
Misty has more or less settled into life in Maretime Bay with her new friends, she's even changed her mane style to reflect her new outlook on life. Things are looking up for her.
That is, until Misty begins to wonder about her past, about who she was before she was taken in by Opaline. It's a mystery that won't leave her alone no matter what.
Thus, the unicorn decides to do some research in Bridlewood, hoping to find out where she came from and who she used to be. Zipp and Izzy go with her to help, and together the friends will uncover something that will change Misty's life forever!
(Tagged AU due to the probability of this specific sequence of events being uncanoned by Chapter 5 of MYM.)
Chapters (1)