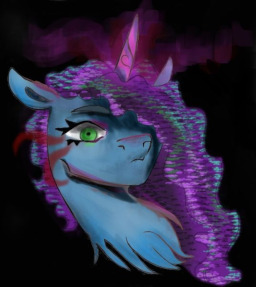 Misty blindly follows Opaline's rule. She couldn't refuse, because she had nowhere else to go. No family, no real friends. No one knew who she was or where she came from, besides Opaline.
She feels shame for all the things she has done, from her lies to her outright theft. But everypony has a price. Opaline has promised her a cutie mark for her unconditional servitude. Opaline is an Alicorn, one of the most powerful creatures to ever to exist, her rise to ruler is inevitable.
After helping Opaline, Misty realizes her mistakes and regrets them. Perhaps even a cowardly mare like Misty can stop whatever evil plan Opaline has in store.
*Original Cover Art done by me*
Chapters (7)