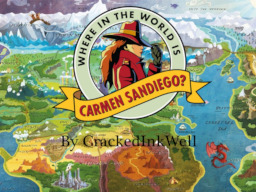 Warning: The following story is currently unedited and is currently a unique experiment.
---
On paper, this should have worked.
The young six didn't intend to be roped into Summer School, and Twilight knew it. She knew the reasons for their slipping grades given that they have saved Equestria a few times, and she knew that it was rather unfair that they have to study again to retake their final test. But upon remembering a game she played when she was in the human world, she hoped to try to make their time fun by borrowing it and having it altered. In hindsight, maybe she shouldn't have made a deal with Discord for a shortcut. Maybe she should have heeded Sunset's warning about magic and human technology mixing - especially one that was decades old.
Nevertheless, the game that was meant to teach her students about world history, culture, and geography, has turned into a race to stop a thief from unleashing chaos.
So it's up to her, her students, and you to find out... Where is Carmen Sandiego?
---
Note: Where in the World is Carmen Sandiego? is a game published by Broderbund. I do not own the rights to the game nor the character involved. Please support the official release.
Chapters (4)