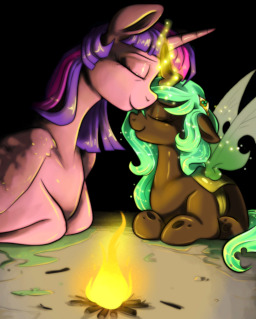 This story is a sequel to A Kindled Change
---
A look into the life of Changeling Princess Chrys as it follows her day-to-day life in Ponyville while she slowly adjusts to the world of ponies, under the supervision and care of a newly crowned Princess Twilight. For a girl whose only ever known darkness almost her entire life, just living amongst ponies is no easy feat.
She finds that her hardest struggles still lie ahead as she works to make a suitable home for her kind. She has to learn to balance her school life with her duties as Princess to her kin and continue to take the steps forward into her new life without regressing.
But in an everyday life filled with strange quirky ponies like the citizens of Ponyville and the cruelty of being the only changeling in a grade school... just being able to keep moving forward becomes an unexpectedly hard task!
(The lovely art was created by the wonder Mutter_Butter.)
Chapters (9)