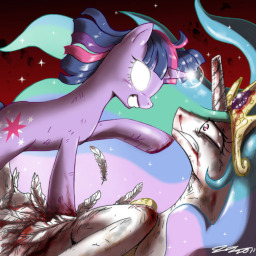 [Please read the author's notes after the expansion before reading. Thank you]
Welcome to the new Equestria, Twilight Sparkle. See your friends at each other's throats? You have to choose between them now, to stop the heartache of war with decisive victory. For the nation lies bleeding, its harmony shattered into a million pieces. Black and white and right and wrong have blurred together.
You must choose wisely, or all shall die.
~Image by JohnJoseco~ If anyone can find a fitting, unique image for this story, please do not hesitate to link in the comments.
[Author's Note]
The following stories should be read in order to get a good grasp on references to previous works.
- Sunset (Mandatory)*
- My Little Muffin (Optional)
- Clash of the Heavenly Titans (Optional)*
- Blood is Thicker / The Reluctant Reunion of the Redoubtable Rabble-Rouser (Strongly Recommended)
All can be found on my Deviant Art account: http://ciroton.deviantart.com/
Those with * can be found here on FIMFiction.
Chapters (25)