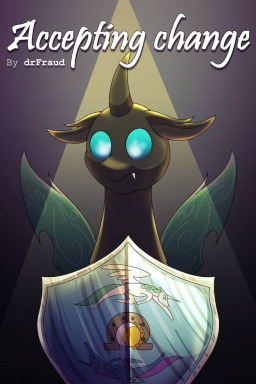 I got dragged to Equestria by pure accident due to an experiment gone 'wrong', roughly forty years before Nightmare Moons' arrival.
No matter what I do, as a pony-changeling hybrid, something will change with Equestria. I just hope I don't doom the country before Nightmare Moon even arrives... Or worse.

This is the first story I ever tried to write professionally, so there WILL be errors, for that, I apologize in advance.
I'm editing and proofreading it on my own because I literally suck when it comes to using this site competently.
Lastly, I am a slow writer due to IRL getting in the way but I will try my hardest to settle the story down whether it's popular or not.
Fair warning, there may be spoilers in the comments.
Thank you to Little Tigress for the fantastic cover art.
Chapters (45)