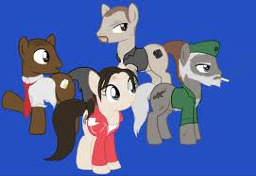 (Note: This is one of my older stories, before I became a bit better at writing. And I thank you all for getting this to the feature box. My life is complete. :3
Also, credit to whoever for the artwork. I loved it and had to use it. Love you XO)
Zoey, Louis and Francis are finally home free. After helping Ellis, Coach, Nick and Rochelle with the bridge, they're finally getting ready to set sail to calmer waters. But when a tropical storm sends them to a land of colorful, peaceful ponies, how will the group react? Will Zoey be able to accept her worlds fate, will Louis be as positive as can be? Will Frances HATE every goddamn thing? Did something else follow them in? Only time will tell in, LEFT 4 DEAD IN EQUESTRIA!!!
Chapters (18)