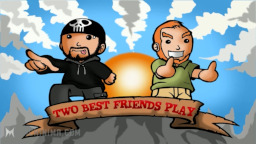 When "best friends" Matt and Pat find another cardboard box that sends them into a different universe, they are suddenly thrust into Equestria and must discover a way out without getting themselves killed in the process. Will Matt be more stupid than usual? Will Pat piss off everyone in Equestria? Will their friendship survive unscathed? Will the next episode of TBFT be uploaded in time? Will this gag ever end? Probably not!
Two Best Friends Play crossover with MLP. If you haven't seen these guys before, go watch them. Watch them all. Watch them or I'll eat you.
My very first fic, so constructive criticism is greatly appreciated.
Chapters (12)