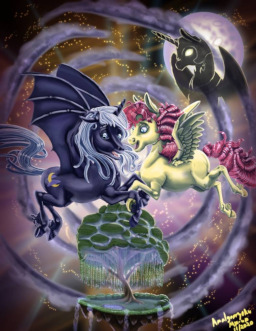 Now with a Discord Channel "Oh, I get to play with the new Prince?" "Not you Discord the Chat Server system Discord." "That's no fun"
---
So what happens when a lucid dreamer ended up in Equestria during the fight between Celestia and Nightmare Moon? The answer he gets caught in the magical blast from the Element of Harmony and Nightmare Moon, becoming the new guardian of the dream realm, but will the ponies accept a new dream walker?
The world of dreams is mine to control, I am its master, I am its guardian, I am the Prince of Dreams. I am the son of Nightmare Moon. Not that I want that you understand.
---
Rated Teen due to sexual innuendos, cursing, and violence. Doesn't contain graphic depictions of violence, but nightmares can be scary.
---
Editors and Prereaders! I really thank everyone for lending their help with this project.
EverfreePony - Editor
DarkPhoneixx - Proof Reader
Mix-Up - Prereader
---
Cover Art by Mix-Up's Deviant Art and his YouTube
---
Featured
10/14/2020
10/17/2020
11/3/2020
11/19/2020
12/16/2020
1/14/2021
2/11/2021
3/24/2021
5/26/2021
Chapters (9)