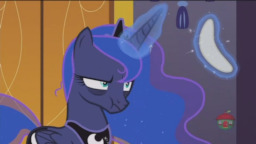 This story is a sequel to Mother Moon, Daughter Nightmare
---
In another universe, Luna has been restored thanks to the Elements of Harmony. She wasn't alone, with her appeared a small 2-month-old royal purple alicorn filly. Nightmare Moon reborn as Luna's Daughter.
These are short stories taking place in that alternate universe. They are randomly written as I come up with the ideas. There is no order or pattern, some will be complex others just minor additions.
-------------
Notice I got on the Featured list! Well, I sometimes appear on it but get replaced by a few hours. Enjoy!
Chapters (10)