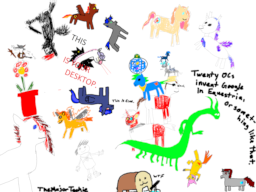 This story is a sequel to The Incredibly Stupidly Weird Story About 15 Random OCs
---
It's official. Twilight Sparkle is no longer the smartest.
With the power of not one, not two, not even three crackheads, but a full twenty (that's two tens worth!) of 'em put together, the all-encompassing, all-powerful and all-knowing behemoth known as *gasp* Google is born!
Except this ain't the Googlidoodledoo that y'all use in real life, no--this is Equestria's take on the thing. It runs on chaos magic.
The cherry on top? Discord isn't even in this story.
---
WARNING: The random tag was found brutally murdered in a blender and turned into a smoothie to write this story.
---
People whose OCs I kidnapped:
Chapters (1)