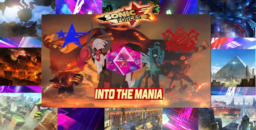 Source
This story is a sequel to Sonic Generations: Friendship is Timeless
---
Everything seemed to be going so well since the fall of The Last Ancient. Twilight and Starlight's time in Sunset Shimmer's world had granted them what they thought would be the final piece of the puzzle that they needed to reach the world that Equestria had almost joined with due to the disruption of time and space. And then Princess Celestia and Princess Luna announced that they would be stepping down.
In her efforts to restore the Warp Ring in the hopes of seeing Sonic and his friends one last time, Twilight inadvertently provided an easy back door to Equestria, allowing Dr. Eggman's chief enforcer to reach it and eliminate any threats the land may pose to the Eggman Empire. As part of his revenge for foiling his plans in the past, Eggman gave strict orders to drag Twilight and her friends to his world so they might see his glorious reign before he ends them for good. Luck proved to be in their favor, however, as the arrival of two friends who haven't been seen in a long time threw a wrench in the works and allowed them to be found by a band of freedom fighters known as the Resistance, led by more of their old friends from that world.
Now part of the uprising to reclaim the world, the Equestrians are hoping to help their allies, new and old, win their war, but time is not on their side. It is the darkest of times for the world, but their efforts may prove to be for naught against their seemingly unstoppable enemy.
Will their friendship and the smallest amount of courage be enough to turn the tides of war?
Chapters (16)