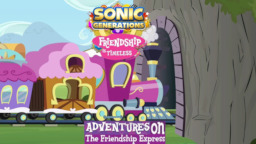 Spin-off story to "Sonic Generations: Friendship is Timeless", taking place between chapters fifteen and sixteen during the train ride to Canterlot.
Everyone knows that Sonic, Tails, Spike, the Main Six, Shining Armor, and Princess Cadance set out for and arrived at Canterlot aboard the Friendship Express to find and stop the monster that had intertwined two worlds and their fates together, but what happened along the way? While Princess Celestia and Princess Luna went on ahead and prepared for their arrival, Equestria and Earth's heroes had to go through more adventures in order to get to Equestria's capital city. Now, the story of their lesser known adventures shall be told.
So climb aboard the Friendship Express, grab a seat, and get comfortable. It's going to be quite a ride.
Sonic Generations: Friendship is Timeless TV Tropes page can be found here.
Chapters (38)