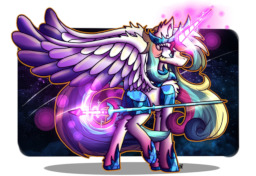 Source
No one said being a princess was easy.
No one said being a princess was fun.
But somepony has to do it.
Cadance has been doing her best to bring the Crystal Empire back up to speed with the rest of the world, but running the entire government was never meant to be a one pony job. So when Sunburst uncovers ancient records that that the Crystal Heart is but one piece of a set of artifacts, she jumps at the chance for adventure and a well deserved break. But when faced with countless challenges, new creatures, and exotic locations, will she ever get any time to actually rest?
Part of the Season 10 Bingo Writing Contest.
Chapters (4)