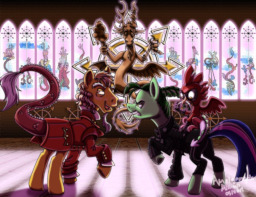 Though most view them as simply immortal powerful rulers, some ponies worship the Princesses as actual Goddesses. Some families with deep Earth Pony roots worship the old Nature Spirits of their ancestors.
But some ponies turn to darker forces. They worship monsters and demons, praying for plagues and misfortunes upon those they despise.
One day, Discord finds out that in his "extended absence", a cult formed with him as the Central Deity. Unfortunately, it's not exactly what he would want. These ponies will soon find out it's a bad idea to anger your god.
Edit 5/18/18: New cover art courtesy of the illustrious Mix-up. Check out the original here.
Chapters (5)