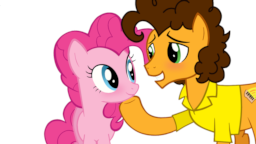 Source
This story is a sequel to Class for Two
---
(It is highly recommended you check out Birthday Built For Two first, along with its sequels. Though familiarity with them is not required to understand this fic. Takes place after "The Last Laugh" for obvious reasons.)
Thanks to Pinkie Pie, Cheese Sandwich is back on his hooves and ready to spread laughter and cheer wherever he goes. And Pinkie Pie couldn't be happier for him, especially since he's her very special somepony.
But it isn't long afterward that Cheese returns to Ponyville once again, this time with something very important he hopes to ask Pinkie Pie about. Something that will change their lives forever.
Will Cheese be able to work up the courage to ask? And if he does, how will Pinkie react?
Chapters (1)