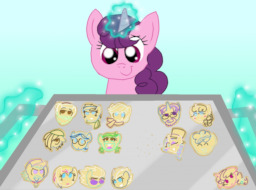 Hearth's Warming is considered the most wonderful time of the year. It's especially true in Our Town, where the holidays promise an opening of a new ski resort and a plethora of family reunions. Everypony is anxious to rebuild old relationships and show them their home, and spend the snowy days in the comfort of their homes and the warmth of family love.
With the exception of Sugar Belle, who doesn't want anything to do with her father.
When Party Favor realizes that Sugar Belle would be lonely on Hearth's Warming, he, Double Diamond, and Night Glider conspire to have their friend be a part of each of their families for a short time, so that she would have somepony to celebrate with.
Still, with Party Favor still having tensions with his own father, Night Glider clashing with her sister, and Double Diamond trying to make sure the opening goes smoothly while simultaneously keeping his siblings under control, Sugar Belle is not sure that plan would go smoothly.
---
Warning, ship alert! This story has a bit of SugarFavor, so read at your own risk.
Takes place before The Cutie Re-Mark.
Chapters (7)