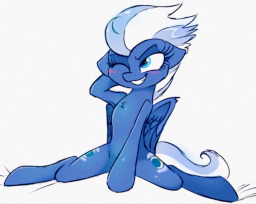 Source
Night Glider has observed Hearts and Hooves day in her town for years: ponies have just simply acknowledged their fellow townsponies, since Starlight never wanted any love drama. No undying love was confessed, and no kisses were shared.
This year, Night Glider wants to change that. For both her, and her totally not crush, Double Diamond.
Awkwardness, embarrassment, and horribly cheesy pick-up lines ensue.
Chapters (1)