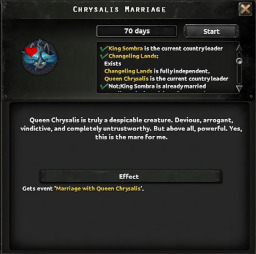 Being brought back from death by his supporters and overthrowing Cadance has given Sombra a valuable hoofhold in Equestria. Yet to stand against his enemies, he might have to offer the unthinkable to a questionable ally.
Can a diabolic king survive a devilish queen?
*Entry in Equestria at War's 2019 Write off , Edit: First place winner!

*Self-contained story with outside knowledge of the EaW AU not needed other than it's an industrialized version of S6 MLP and the Changeling Lands border the Crystal Empire.
*A refresher for Radiant Hope's backstory in one comic page.
*Teen for talk of war and warfare, some saucy changeling flirting, and mild fighting. Nothing explicit or gory shown.
*Thanks to Clancrusher for his editing help!
*Featured on Seattle's Angels!
Chapters (1)